One of the most valuable aspects of satellites is that they can provide services from space, even if terrestrial networks on the ground have been damaged or destroyed, or areas on the ground are blocked and unable to be surveyed. This makes satellite services uniquely reliable and an invaluable tool for emergency responders during disaster relief. It also aids humanitarian organizations and repair crews during disaster management and recovery. Satellites can also provide valuable business continuity services post disaster and backhaul capacity for network restoration. For these reasons, public safety agencies, emergency responders and all levels of government plus commercial enterprises should consider how to incorporate satellite services into their emergency communications preparations before a disaster strikes.
Satellites can provide these and other services during times of an emergency:
Mobile Telephony – Satellite phones can provide critical voice communications for not only first responders and recovery teams, but also for survivors cut off from the world who wish to reach out to family and loved ones.
Data and Broadband Connectivity – Satellites can provide essential lifesaving broadband and VSAT (Very Small Aperture Services) data services to response and recovery agencies, hospitals and others in regions cut off from terrestrial internet and Wi-Fi services during a disaster. Satellites also provide reliable satellite data support and business continuity to gas stations, grocery stores and retailers for point of sale (POS) credit/debit card authorizations and inventory management. This allows consumers to continue to purchase fuel, water, food and other essentials during recovery.
Imaging for Weather Forecasting – Imaging from both small commercial satellites and advanced weather satellites provide crucial data as it helps local officials plan life-saving evacuations in areas predicted to be heavily impacted by severe weather.
Comparison Imagery – Before and after imaging from satellites can assist responders in locating areas of flooding or severe damage, performing search and rescues, evaluating damage to critical infrastructure, searching for navigable roads, and prioritizing aspects of the response and recovery.
Satellite Broadcast – Satellites support television news trucks and emergency responders to provide valuable onsite rescue and recovery information and services.
Mobile phone backhaul services – Mobile phone companies may often use VSAT satellite terminals to provide backhaul support for restoration of cellular and text services.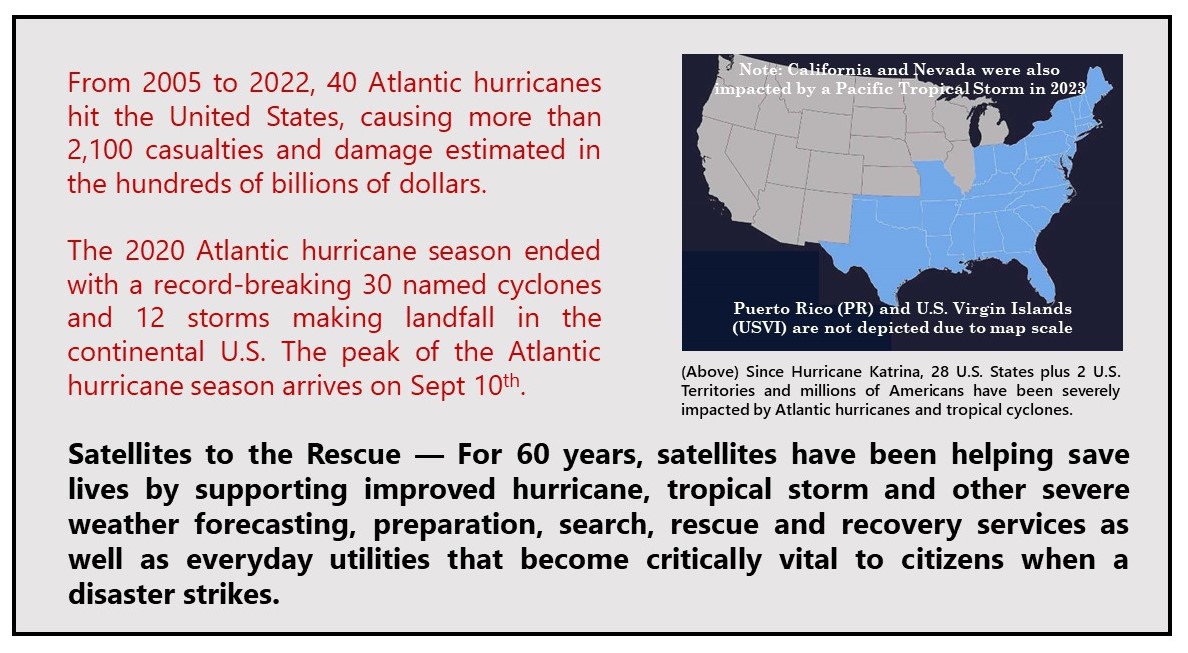 Satellites Play a Critical Role in Saving Lives and Providing Vital Services Before and After a Weather Disaster. To learn more about the impact satellites have on hurricane and disaster relief, please click here.